Professional Development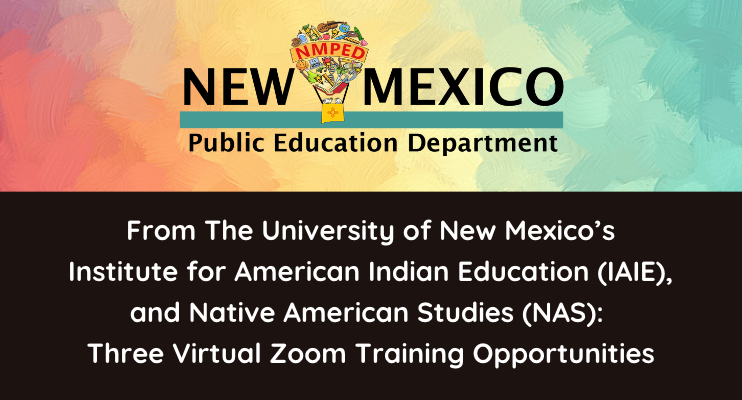 THURSDAY, JULY 28th, 10-11:30 am

Module #2: Sustained Learning: Anti-racism 
Duration: 90 minutes 
Developed by: Terri Flowerday, Ph.D., Natalie Martinez, Ph.D.,  Glenabah Martinez, Ph.D. 
 
Rationale: As awareness of and resistance to culturally responsive pedagogy builds in the United States, it is important for educators to understand the ideological foundations that necessitated the movement toward anti-racist pedagogy and how students in New Mexico experience racism similarly and uniquely in school and social settings. This Module explains key concepts including racial micro- and macroaggression, racial microaffirmation, and offers educators opportunities to engage in recognizing the beliefs that inform their practices and to better understand the impact of both subtle and overt forms of racism that New Mexico's marginalized students encounter.  
 
Learning outcomes: By the end of the session, participants will be able to… 
Understand the meanings of racial microaggression, racial macroaggression, and racial microaffirmation in the context of anti-racist pedagogy.
Identify how racial microaggressions and racial macroaggressions are embedded in curriculum, policy, pedagogy, and daily interactions as they relate directly to Indigenous K-12 students in New Mexico. 
Explain how administrators and teachers can incorporate racial microaffirmations into leadership and pedagogy. 
Explain how the field of educational psychology is reevaluating research methods and key learning theories to better represent marginalized populations.
FRIDAY, JULY 29, 2022

Module #3: Sustained Learning: History of Indigenous Peoples 
Duration: 90 minutes 
Developed by: Leola Paquin, Ph.D., Natalie Martinez, Ph.D., Lloyd Lee, Ph.D., Glenabah Martinez, Ph.D. 
 
Rationale: New Mexico educators need to know and understand the history of New Mexico's Indigenous peoples and the impacts of these historically significant experiences on the education of New Mexico children.  
 
Learning outcomes: By the end of the session, participants will be able to… 
To gain insight into current Indigenous homelands in New Mexico 
To understand the current state of Indigenous K-12 students and staff in New Mexico public and BIE education 
To understand the historical significance of key events in the histories of Indigenous Peoples of New Mexico.
WEDNESDAY, AUGUST 3, 2022

Module #4: What is the linguistic landscape and its importance for our New Mexico students? 
Duration: 90 minutes 
Developed by: Tiffany S. Lee, Christine Sims, Joshua Frank Cardenas 
 
Rationale: This module was developed so participants achieve the learning outcomes specifically around understanding the New Mexico Native linguistic landscape, language changes, implications, and actions they can take to promote language sustainability and revitalization. 
 
Learning outcomes: By the end of the session, participants will be able to… 
Understand the Linguistic Landscape of NM Indigenous Population. Localizing knowledge and experience.
Explore the linguistic landscape involving background knowledge, understandings, digital and physical challenges 
Examine implications for language teaching and education