Highlights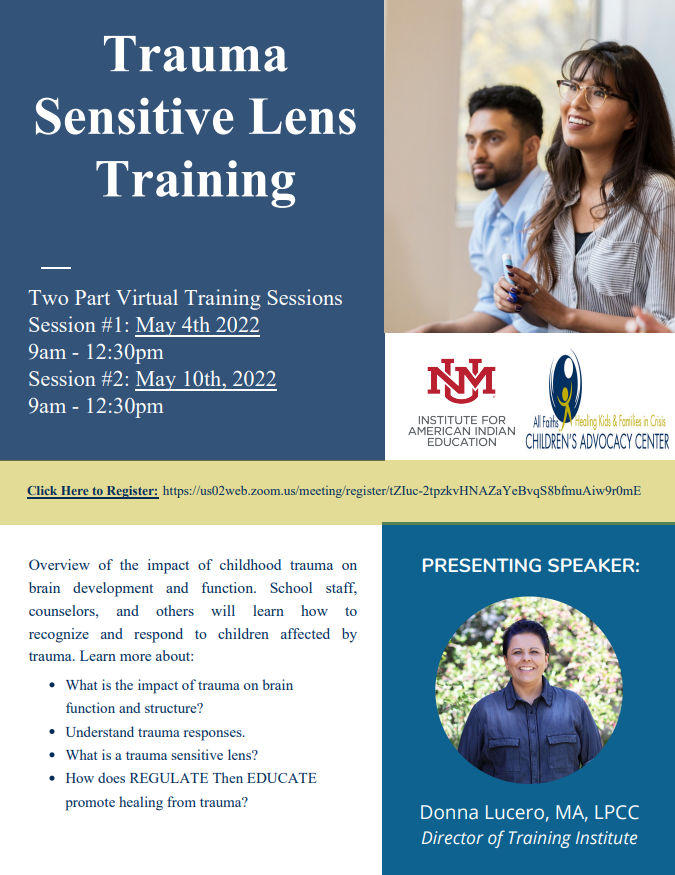 Trauma knows no color, ethnicity, religion, economic status. Trauma does not discriminate. Bad things (trauma) happen to all people and varying degrees and frequencies and our biological response to trauma, the activation of the stress response system, is the same across color, gender and class. Still, people from communities of color endure trauma at higher rates and often lack the resources, supports and access to support healing and recovery. Additionally, communities of color have endured historical trauma in regards to the forced relocation, colonization, enslavement, exploitation, degradation and oppression, to include our indigenous peoples.  Further, people of color must continually endure maneuvering racist ideology both systemically and individually as well as continuous microaggressions, which create a consistent activation of the stress response system.   
The Institute for American Indian Education and All Faiths Children's Advocacy Center will host a professional development session for Indigenous communities across the state of New Mexico on May 4th, 2022 and May 10th, 2022 from 9 AM to 12:30 PM (MT). A two-part virtual training sessions will focus on the overview of the impact of childhood trauma on brain development and function. School staff, counselors, and others will learn how to recognize and respond to children affected by trauma. Learn more about:
What is the impact of trauma on brain function and structure?
Understand trauma responses.
What is trauma sensitive lens?
How does REGULATE Then EDUCATION promote healing trauma?
The professional development is free to attendees. Register here: https://us02web.zoom.us/meeting/register/tZIuc-2tpzkvHNAZaYeBvqS8bfmuAiw9r0mE