2022 Indigenous Education Research Conference

It is a pleasure to invite you to the 6th Annual Indigenous Education Research Conference. The conference is hosted by the Institute for American Indian Education at the University of New Mexico. The virtual conference will take place on April 28 and 29, 2022 from 9 A.M to 2 P.M (MT).  
About the Conference
The College of Education and Human Sciences at the University of New Mexico leads the nation in the number of Native faculty that represent a diversity of Indigenous Peoples. Individually each faculty member is engaged in research that serves Indigenous Peoples and Nations. Collectively, Native faculty engage in critical dialogue on issues of scholarship/research, teaching, and service. We acknowledge and operationalize the importance of engaging in research that recognizes the integrity of cultural sovereignty as it is exercised by Indigenous Nations. As educators, scholars, and Indigenous Peoples, we are cognizant of the critical role that Western and Indigenous-centered education has on pedagogy, policy, research, and practice. It is in this spirit that the idea for this research conference emerged.  
The theme of the 6th Annual Indigenous Education Research Conference isDefending Indigenous Educational Sovereignty: Putting education back in the hands of community people.  The theme acknowledges the ways in which sovereign Indigenous communities and nations have advocated for the wellbeing of their youth in contentious
 times.  In looking beyond the Yazzie/Martinez case, Indigenous educators, community leaders and organizers, researchers, and policy makers must work together to assert local control of their education systems by honoring Indigenous languages, core values, and ways of knowing. In doing so, we draw upon our cultural strengths to overcome challenges and re-imagine possibilities for the benefit of future generations. We must ask ourselves, "Are we prepared for what the future holds for our children?"  
We invite proposals for research-based panels and papers that address: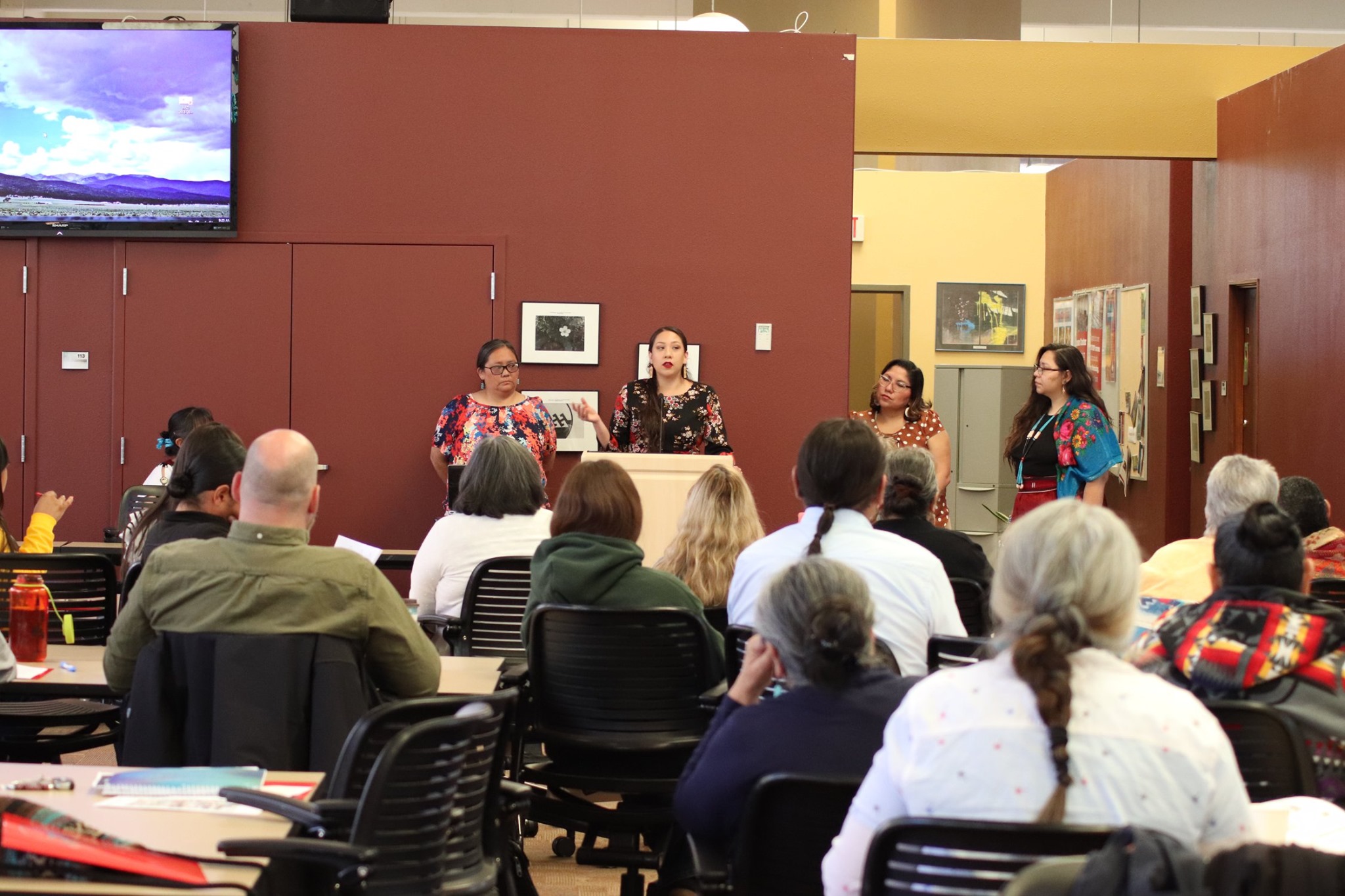 Exercising Indigenous educational sovereignty in the interest of our children 

 

Impact (or not) of the Yazzie/Martinez ruling on pedagogy, policy, leadership, and/or curriculum

 
Implications of Yazzie/Martinez outside of New Mexico

 

Issues of language and culture within the state of New Mexico as it relates to education

 
Who Attends the Conference?
The intended audience for this conference includes Indigenous youth, educators, scholars, and community members.
Important Dates
Deadline for proposal submission: MARCH 7, 2022
Notification of acceptance: March 21, 2022
Registration link available: April 1, 2022
Conference: April 28 & 29 2022 – 9 A.M. to 2 P.M. (MST)
No registration fees 
Platform: Zoom

Link to learn more about equipment and system requirements for Zoom:
https://support.zoom.us/hc/en-us/articles/201362023-System-Requirements-for-PC-and-Mac 
Registration:
Registration for the conference is free and is open.  
We look forward to seeing you at the 6th Annual Indigenous Education Research Conference.  
Sincerely, 
UNM Native Faculty & IERC Planning Committee