Brown Bag Series

---
Thank you for joining us online in our monthly series as members of the Institute for American Indian Education (IAIE) at University of New Mexico talk about their research and current work related to educator preparation, language and culture, leadership, and other topics related to Indigenous education. If you would like to revisit last year's series and share with others, please check out our YouTube Channel or view our list below of what was previously presented. Below you will also find a preview of what is happening at our next session and information on how to register.  
---
What's happening this month?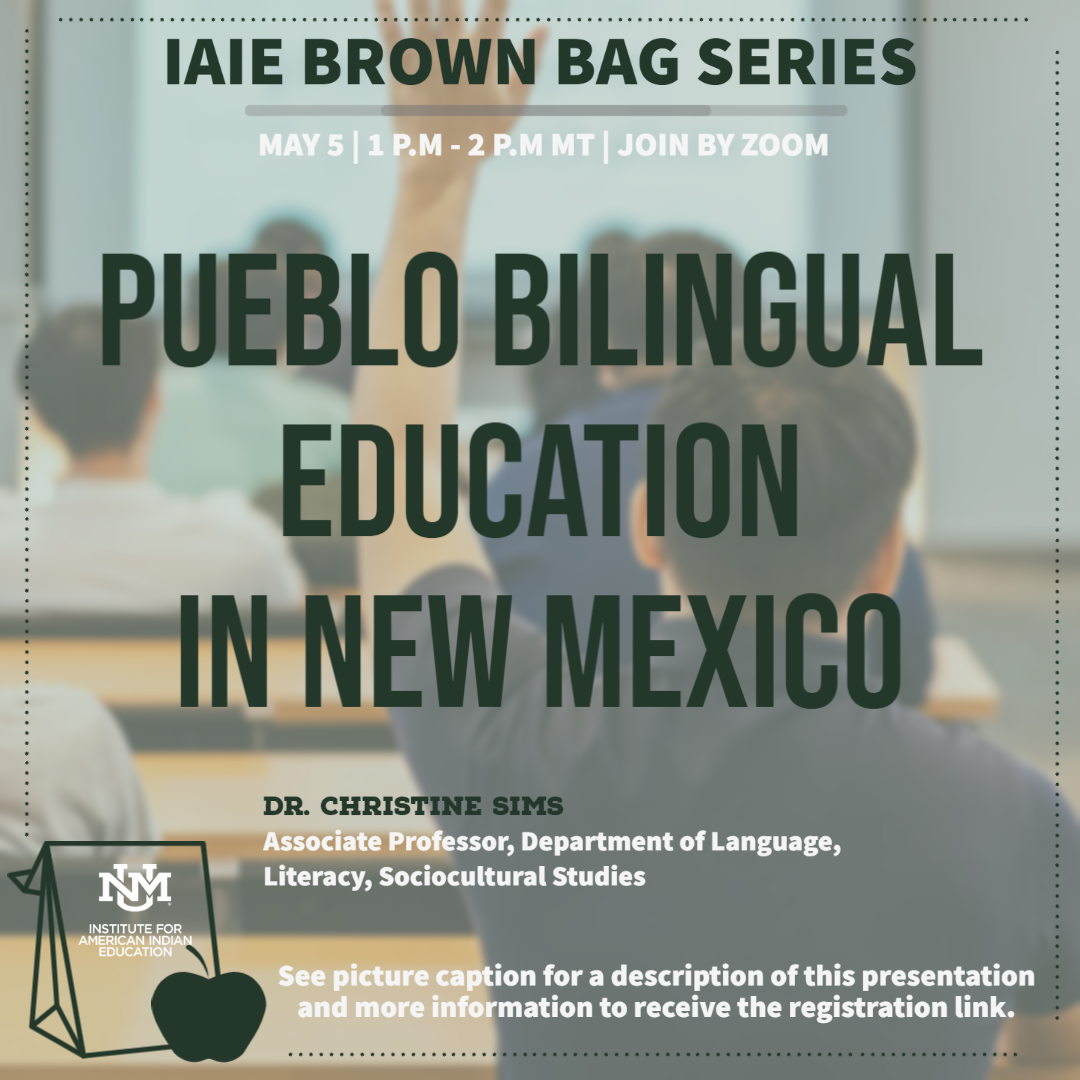 Pueblo Bilingual Education in New Mexico
Presenter:
Dr. Christine Sims
Associate Professor, Department of language, literacy, sociocultural studies
_
This session will provide an overview of Pueblo bilingual education in New Mexico and early efforts to provide support for Native teachers and bilingual programs focused on Pueblo languages.
To receive a Zoom link, register here.  Once registered, you will receive a confirmation email containing a link and information about joining. Zoom link will also be sent one hour prior to event as a reminder. If you have questions or would like more information, please email us at iaie@unm.edu.
Vincent Werito, Ph.D, Associate Professor in the Department Language, Literacy, & Sociocultural Studies 
This presentation will share insights about ways that Indigenous (Diné) communities can be actively engaged in research to address health disparities by drawing on their community cultural wealth. Using a mixed methods approach, the study utilized community engagement surveys and focus groups to build a community research partnership and define community wellbeing. The findings of this study demonstrate that a research model integrating CBPR with a Diné centered research paradigm can improve health and educational outcomes in Indigenous contexts through community partnerships focused on critical dialogue and praxis to enable culturally relevant, culture and land-based interventions driven by the local community.
Dr. Donna Deyhle: Professor Emerita, University of Utah, Department of Education, Culture, and Society and the Ethnic Studies Department
Dr. Donna Deyhle is an Assistant Professor at the University of Utah, College of Education, when she started her ethnographic research in the 1980s in San Juan School District, Utah. She was trying to understand why so many Native youth left school before graduation and hoped this knowledge could be used to more effectively train teachers to serve the needs of their Native students. She discovered that academic courses opening a path to college were invisible in most schools—vocational education was the only path provided for Native students. Many teachers were indifferent to the lives of their Native students. Teachers' knowledge of the Navajo community was framed by racism and limited expectations constrained by a history of colonization.  Over the years Dr. Deyhle watched and listened to the educational encounters Navajo youth were experiencing and talking about. They spoke clearly about what helped them to excel in school: cultural and linguistic reaffirmation, the desire for an appreciation of who they are, high teacher skills and performance, and highly engaging curriculum. Very little of this existed in their schools. 
From the start of her research, she has been layered with many different roles, including scholar, teacher, friend, foe, ethical researcher, unethical researcher, and expert witness. In this presentation, Dr. Deyhle will focus on her role as an expert witness in the Sinajini et. al. v. San Juan School District. This case, started by Navajo parents in 1975, focused on the unequal educational opportunities experienced by their children. Almost 50 years later the court still "retaines jurisdiction" meaning the district must provide "equal educational opportunity" over time that ensures to the court that "equal educational opportunity" exists. This is still to be determined. 
Joshua Frank Cárdenas, Ph.D. Visiting Lecturer III, American Indian Education, Dept. of Language, Literacy & Sociocultural Studies
 Deganawidah-Quetzalcoatl University (D-QU), was, in the words of Jack D. Forbes (Rappahannock/Lenape), its most original and influential progenitor, founded when "a group of Indians and Chicanos broke through four centuries of colonialism by founding D-Q University, or perhaps we should say that they were called upon by the Great Creative Power to do what had to be done at this particular point in time" at the height of the Red Power movements of the 1960's and 1970's, outside of Davis, California (Forbes 1971, "Why D-QU?", p. 2). Armed with a decolonizing approach to education, it served as an academic, cultural and political lightning rod for the region yet it was also an institution founded as a holistic center for indigenous survivance inclusive of traditional and recent spiritual/ceremonial, economic, scientific, linguistic, artistic, legal and other forms of knowledge and culture. Originally imagined as a Ph.D. granting place, the great dream was quickly sidetracked by the same colonial milieu it strove to overcome. What lessons can we learn from its founders, its founding, and the foundations it was built upon as well as those it sought to develop in native students and communities everywhere?
Dr. Christine Sims, Director of the American Indian Language Policy Research and Teacher Training Center
Lana Garcia, Program Manager for the Walatowa Head Start Immersion Program in Jemez Pueblo
This session will focus on the foundations for language and cultural learning for New Mexico's youngest tribal members, children in pre-school and early childhood programs. In addition, it will also discuss some of the critical areas of change that have emerged in tribal communities where Native language development has become a key issue of concern.
Leola Tsinnajinnie Paquin, Assistant Professor, Native American Studies
This presentation will bridge together knowledge from literature, faculty fellowship programs, teaching, service, and the process of partnering with school districts.  The elements of the presentation will include: 1) building research experience into introductory curriculum; 2) honoring diverse student experiences and backgrounds; 3) building a heartfelt classroom community; 4) clarifying connections between anti-racism and Native Studies; 5) rooting pedagogy in local communities; 6) considerations for including Land Acknowledgements in courses and 6) offering an effective accessible safe learning environment in light of the COVID-19 pandemic and movements for race and social justice.   
Lloyd L. Lee, Ph.D, Associate Professor in Native American Studies
Diné identity in the twenty-first century is distinctive and personal. It is a mixture of traditions, customs, values, behaviors, technologies, worldviews, languages, and lifeways. It is a holistic experience. Diné identity is analogous to Diné weaving: like weaving, Diné identity intertwines all of life's elements together.

This book takes up and provides insight on the most essential of human questions: who are we? Finding value and meaning in the Diné way of life has always been a hallmark of Diné studies. My Diné-centric approach to identity gives the reader a deep appreciation for the Diné way of life. He incorporates Diné baa hane' (Navajo history), Sa'ą́h Naagháí Bik'eh Hózhǫ́ǫ́n (harmony), Diné Bizaad (language), K'é (relations), K'éí (clanship), and Níhi Kéyah (land) to address the melding of past, present, and future that are the hallmarks of the Diné way of life.
This study, informed by personal experience, offers an inclusive view of identity that is encompassing of cultural and historical diversity. To illustrate this, I share a spectrum of Diné insights on what it means to be human. Diné Identity in a Twenty-First-Century World opens a productive conversation on the complexity of understanding and the richness of current Diné identities.
Wendy Greyeyes, Ph.D., Assistant Professor, Native American Studies and
Delores Greyeyes, Ph.D., Director, Navajo Nation Department of Corrections
There is an urgent call for the Navajo Nation tribal council to revise school disciplinary policy for students attending the 144 schools on the Navajo Nation. Currently, the Navajo Nation's tribal code permits schools to construct their own school disciplinary codes as they see fit. Since the passage of the code, school suspensions on Navajo Nation have ranged from 5.1% to 25% within the school districts. This number is alarming as we observe that in the National Prison and State prison populations, American Indians and Alaska Natives make up approximately 2.2% of the total population. These school disciplinary policies place Navajo students at a disadvantage. Through the coding of 20 school policies, the authors show the results of their analysis of school policies and include a revised tribal code recommendation to the Navajo Nation council. This includes draft tribal code and school code language that prioritize peace-making and traditional ways to implement restorative justice for students.
Jvanna Hanks II, Gallup Mckinley County Schools
The State of New Mexico made history in 1974 by creating the Operational Funding formula known as the State Equalization Guarantee (SEG). The new SEG was revolutionary in its intent to move away from reliance on local property taxes to fund operations in local schools. Unfortunately, the State did not pass an equalization funding formula for Public School Capital Outlay in 1976, as was originally planned. The lack of Capital Outlay equalization forced school districts to rely on local property taxes, issuance of general obligation bonds tied to property valuations, and direct legislative appropriations for capital outlay needs. Impact Aid districts, who receive Impact Aid payments to replace lost property taxes and lower bonding capacity, saw millions of dollars swept into the Operational Funding formula. From 1974 to 2002, Impact Aid Districts had little to no ability to replace or repair school facilities and utilized its operational funding to support capital outlay needs. From 2002 to the present, Impact Aid Districts have had to rely on operational funds and an adequacy system to replace or repair school facilities. This presentation will discuss Impact Aid, public school funding changes, funding challenges, and the consequences that these decisions have had on Districts like Gallup-McKinley County Schools.  
Azella Humetewa, MBA-Ed Lead. Native American Community Academy;
Christine Sims, Ph.D. IAIE Faculty Member;
Glenabah Martinez, Ph.D. Director of IAIE;
Natalie Martinez, Ph.D. IAIE Faculty Member; and
Shannon Romero, IPPC/IWC Project Manager
In light of historically ongoing and more recent movements to remove historical markers (plaques, monuments, statues, paintings, etc.) from public spaces, it's important to acknowledge that these efforts have been long-standing through public protest and legislative initiatives, but the action has been slow to respond. Lessons developed by Indigenous faculty from UNM and NACA will be presented. Collectively, the lessons ask students to consider how decisions are made when identifying important figures to represent New Mexico and to acknowledge the controversies over who is chosen as representative of our collective histories.
ZOOM HOW-TO GUIDES
Listed below are general step-by-step guides on how to enter the virtual conference by a computer or by phone and self-selecting a breakout room. The meeting link and dial-in information have been provided through a confirmation email sent prior to the conference. If during any time of the summit find yourself needing technical assistance, you may send a direct message to the following Technical Assistance list by the chat function (available to attendees participating by computer only).
Technical Assistance:
Institute for American Indian Education (Host) – Brianna Fragua
Wendy Gaytan Marin (Co-host)
T
T
Join a meeting by computer:
Click on the link that was provided to you, it will look something like: http://unm.zoom.us/j/555555555 (this is only an example)
A dialog window will pop-up:

Click on "Open Zoom Meetings"
A window will pop-up, to enter your name (you can select the check-box to "Remember my name for future meetings", after you enter your name click Join Meeting: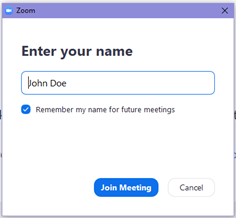 On the next window click on "Join with Computer Audio"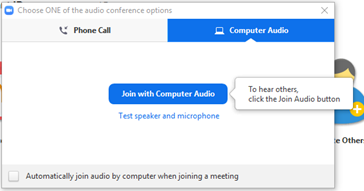 Features while you are in a meeting: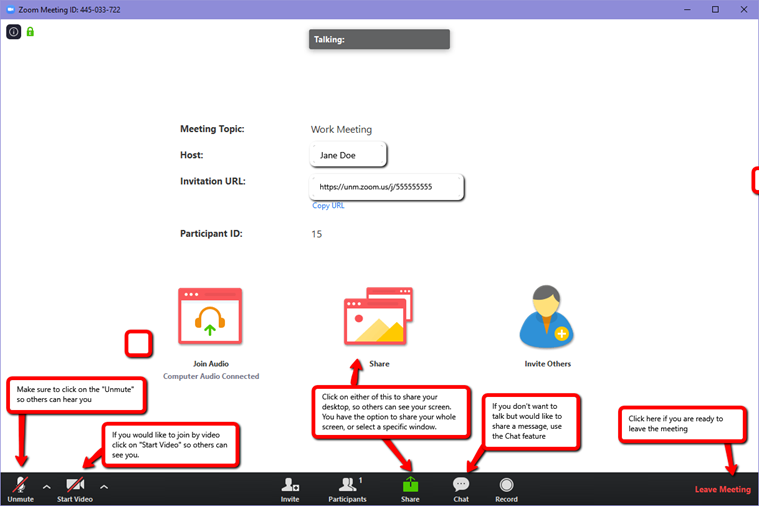 To minimize background noise, please remain on "mute" when you are not speaking.
Join a meeting by phone:
Dial an in-country number. If you dial a toll number, your carrier rates will apply.
You will be prompted to enter the meeting ID - the nine (9), ten (10), or eleven (11) digit ID provided to you by the host, followed by #.
If the meeting has not already started and join before host is not enabled, you will be prompted to enter the host key to start the meeting, or to press # to wait if you are participant.
You will be prompted to enter your unique participant ID. Press # to skip.
Phone controls for participants
The following commands can be entered via DTMF tones using your phone's dial pad while in a Zoom meeting:
*6 - Toggle mute/unmute
*9 - Raise hand.
Self-selecting a breakout room:
The host will allow participants to self-select and join breakout rooms of their choosing, participants will be able to view and select from a list of breakout rooms the host has created. They will be able to enter and leave breakout rooms freely. 
Note: Participants not joined with the desktop or mobile app (version 5.3.0 or higher) will not be able to self-select a breakout room. The host will need to facilitate moving these participants manually.  
Click the Breakout Rooms option in your meeting controls.

This will display the list of open breakout rooms created by the host. 
Click Join next to the Breakout Room you wish to participant in, then confirm by clicking Join again. 
Repeat as necessary to join other breakout rooms or click Leave Room to return to the main session. 
Asking for help:
If you click Ask for Help, it will notify the meeting host that you need assistance, and they will be asked to join your breakout room.
Click Ask for Help in the meeting controls.

      2. Confirm that you would like assistance by clicking 
Invite Host
.